Hello Sky Watchers,
November 22, 4:32am PST marked the start of a new lunar cycle. This cycle peaks with the December 6 Full Moon and ends December 21, 5:36pm PST, just 2 1/2 hours after the winter solstice begins.
Be sure to do some solar bathing during the beginning of December and there's plenty of stellar navigating for any evening of your choice during this lunar cycle!
The folks at SouledOut.org invite you to celebrate the current lunar month by participating in the Sagittarius Festival Global Meditation.
Lunar Theme: Metamorphosis "Our November 22, 2014 New Moon lies in the midst of a stellium of planets ... This area of the heavens is about transmuting lower-self desires and patterns into a higher neurological resonance that results in self-mastery ... One of the primary events occurring in this lunar cycle is the sixth out of seven Uranus-Pluto geocentric squares [Revolution and Revelation] ... The Venus-planet cycles ... engage a metamorphic healing process, especially about judgments regarding wrong doings / blunders of the past, cultivating a new and clearer focus, dedication and commitment of an open heart, and allowing a greater level of nourishment to enter heart and to reciprocate from heart ... Venus and Pluto ... [are] impelling us to use the power of heart to steer our intent ..." Click the lunar theme link for more insights by Nick Fiorenza.
SDO Sees Sol and the New Moon - 11/22/14
Solar Highlights for This Lunar Cycle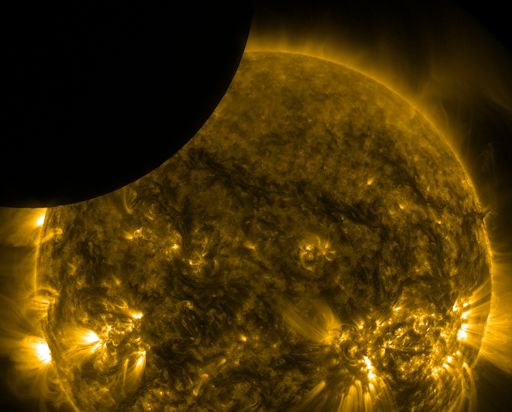 Image Credit: spaceweather.com
Larger Image