Hello Night Sky Travelers,
January 20, 5:14am PST marked the beginning of a new lunar cycle that peaks with the February 3 Full Moon and ends February 18, 3:47pm PST.
In 2015, first of six supermoons comes on January 20
Lunar Theme: Clarifying Motive "Our January 20, 2015 New Moon occurs just as Mercury stations to begin its retrograde ... Our New Moon stars impel us to concretize our visions and ideals into demonstrable form. They impart a desire for independence and motivate independent pursuits, generally for personal gain, whether for material gain, for position or advantage in life, or for greater personal knowledge and understanding. They inspire intellectual curiosity, inquisitiveness and discovery of that which is hidden, but most of all, they impel us to examine and clarify our own personal motives that formulate our lives." Click the lunar theme link for more insights by Nick Fiorenza.
The folks at SouledOut.org invite you to celebrate the current lunar month by participating in the Aquarius Festival Global Meditation.
Jan. 21-23, Wednesday-Friday At dusk look west-southwest after sundown. A slim waxing Crescent Moon forms a triangle with dim, challenging to see Mercury and bright Venus Jan. 21. It is above Venus and to the right of dim Mars Jan. 22, and forms a diagonal line with Mars and Venus Jan. 23. Use binoculars for viewing Mercury and Mars. Dusk Map 1/21-23 These are the last best nights for Comet Lovejoy. Finder Chart + Photos
Orion Gives Birth ~ Rules the Winter Night
Jupiter at Its Best ~ Mercury Retrograde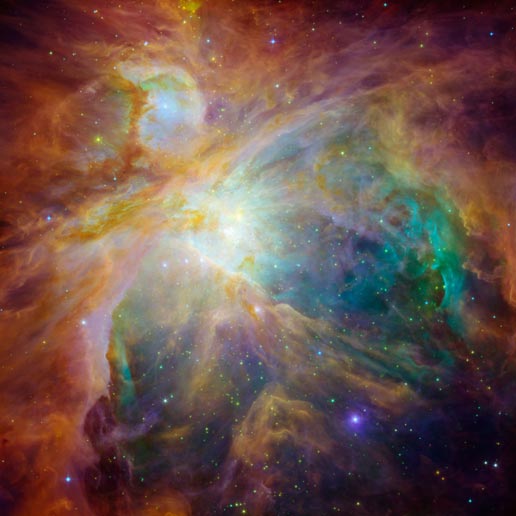 Image: NASA / JPL–Caltech / STScI